TampaBay.Venture's initial fund is a $27 million seed fund, which will invest in art least 20 local companies over the next five years. As a vote of confidence in this endeavor, the general partners are committing $10 million to the fund, far greater than a typical fund.
The initial fund is not accepting new investors as of early 2022.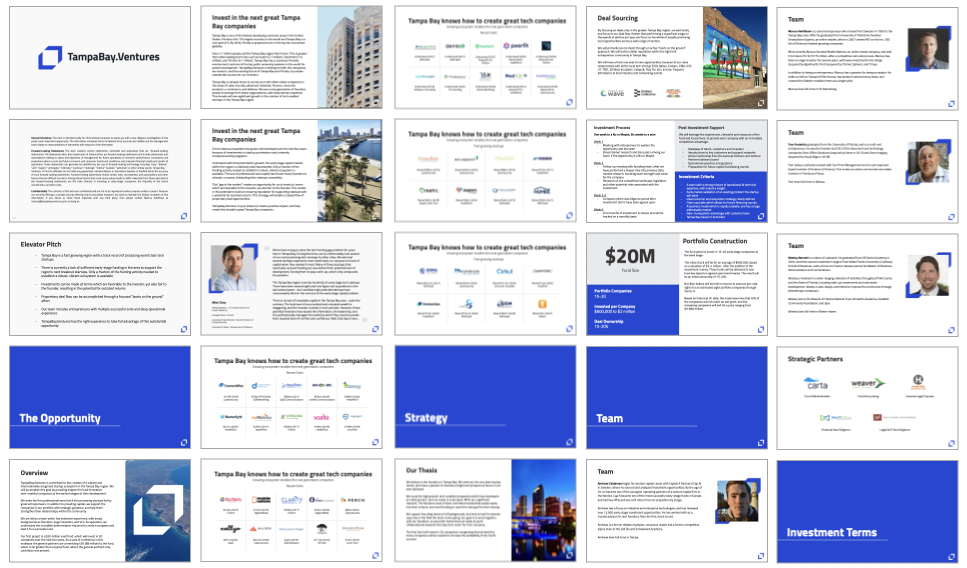 General Disclaimer This website is intended solely for informational purposes to assist you with a due-diligence investigation of this project and investment opportunity. The information contained herein is believed to be accurate and reliable, but the management team makes no representations or warranties with respect to this information.
Forward-Looking Statements This website contains certain statements, estimates and projections that are "forward-looking statements." All statements other than statements of historical fact are forward-looking statements and include statements and assumptions relating to: plans and objectives of management for future operations or economic performance; conclusions and projections about current and future economic and consumer trends and conditions; and projected financial results and results of operations. These statements can generally be identified by the use of forward-looking terminology including "may," "believe," "will," "expect," "anticipate," "estimate," "continue", "rankings," "intend," "outlook," "potential," or other similar words. Tampa Bay Ventures, LP and its affiliates do not make any guarantees, representations or warranties (express or implied) about the accuracy of such forward-looking statements. Forward-looking statements involve certain risks, uncertainties, and assumptions and other factors that are difficult to predict. Among those factors that could cause actual results to differ materially from those described in the forward-looking statements are the risks inherent in investing in early-stage companies, the illiquidity of the fund's investments, and other risks.